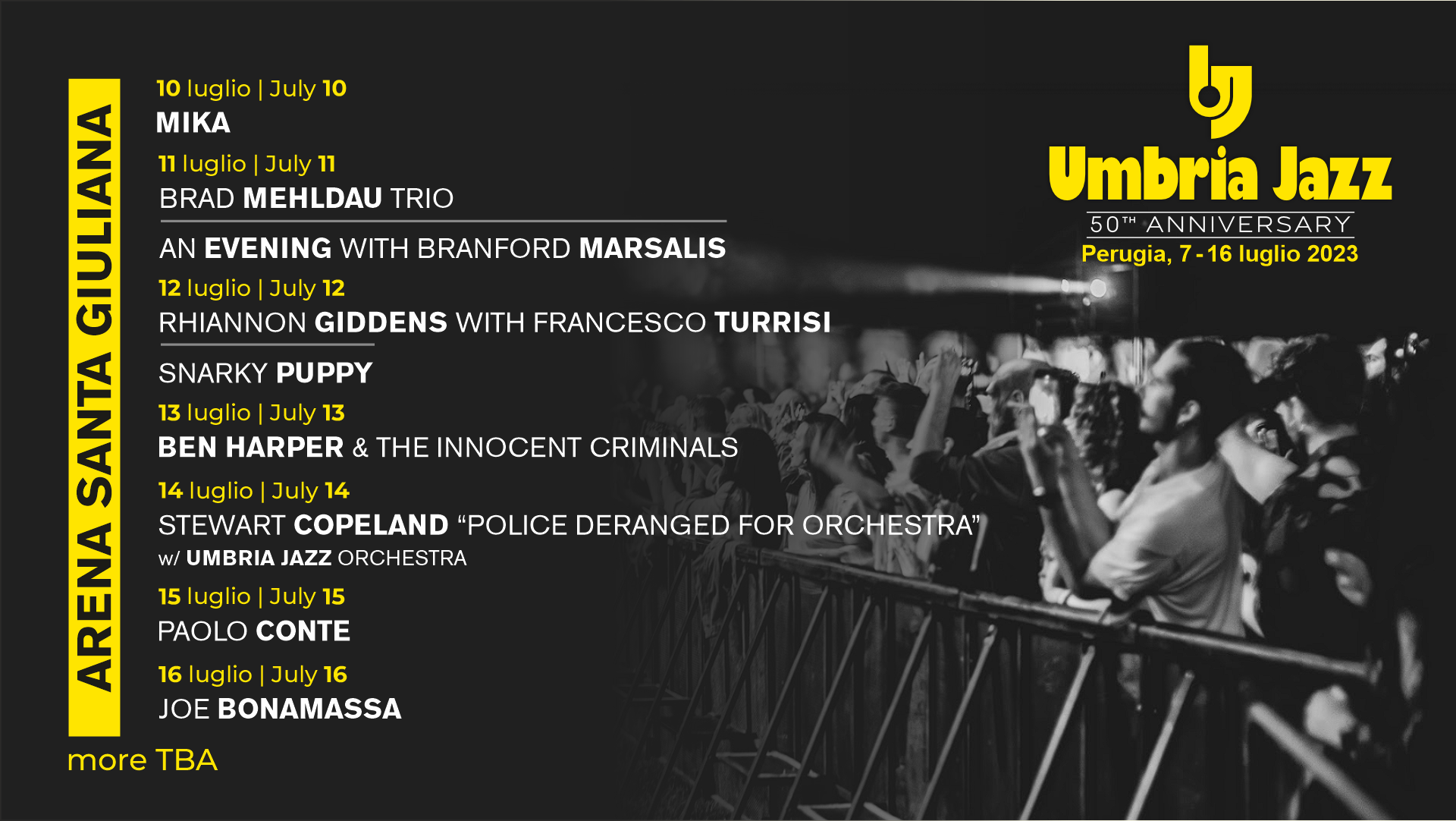 Umbria Jazz – 50th anniversary (July 7 – 16, 2023), new names at the Arena Santa Giuliana
Umbria Jazz – 50th anniversary (July 7 – 16, 2023), new names at the Arena Santa Giuliana: Brad Mehldau Trio and Branford Marsalis (July 11), Rhiannon Giddens and Snarky Puppy (July 12), Ben Harper & The Innocent Criminals (July 13) and Joe Bonamassa (July 16).
The program of Umbria Jazz – 50th anniversary, scheduled in Perugia on July 7 to 16, 2023, begins to take shape.
On July 11, great jazz music will be performed by two great artists: Brad Mehldau is now one of the most renowned and all-round pianists thanks to his intensity that makes it one with his piano. He will perform in trio with Larry Grenadier on double bass and Jeff Ballard on drums, which refers to the best examples expressed by this challenging and fine formula. The Branford Marsalis quartet, formed in 1986 and remained almost continuously active and stable in the lineup, has produced a series of extraordinary records.
July 12: Rhiannon Giddens, an intelligent and sensitive artist who investigates in the depth of American popular music roots – and not only that – will perform in duo with Italian guitarist and partner Francesco Turrisi; Snarky Puppy has quickly become one of the most popular names in the world of jazz and fusion, terms which, however, in their case are reductive since their music escapes any attempt at classification precisely because of its ability to focus effortlessly on the sounds of today.
On July 13, Ben Harper and The Innocent Criminals: since its debut album "Welcome To The Cruel World" (1994), Ben Harper has released an extraordinary series of records that set him as a singularly powerful songwriter and performer with range across multiple genres and an unmatched ability to blend the personal and political.
On July 16, a great rocker and bluesman: often both things combined. Joe Bonamassa is one of the greatest guitarists who merges heart and musical intelligence with profound popular music culture.Tickets for these concerts and for Stewart Copeland (July 14) e Paolo Conte (July 15) are available on Thursday, December 22, at noon.
____________________________________________________________________________________________________________________________________________
UPDATE | January 1, 2023
A new event is added to the Arena Santa Giuliana's Main Stage line-up: the Mika concert will be on July 10, 2023. Tickets available from January 4, 2023 at noon.